TOEFL or Test of english as foreign language is very popular exam across the globe. The TOEFL iBT test measures your ability to use and understand English at the university level. And it evaluates how well you combine your reading, listening, speaking and writing skills to perform academic tasks.
TOEFL has two versions- iBT and PBT. iBT stands for internet Based Test and PBT stands for Paper Based Test
TOEFL test has more than 4,500 testing centers in over 165 countries - so students shouldn't have to travel far to take the test. It is accepted by more than 9,000 institutions, immigration authorities and scholarship agencies in over 130 countries - truly making the TOEFL test a student's passport to the world. Some of the countries are US, Canada, UK, Australia.
The iBT test is given in English and administered via the internet and offered more than 50 times a year. You can retake the test as many times as you wish, but you cannot take it more than once in a 12-day period.
There are 4 sections (reading, listening, speaking, and writing) which take a total of about 4 1/2 hours to complete, including check-in.
During the test, you are asked to perform tasks that combine your English communication skills, such as:
Read, listen and then speak in response to a question
Listen and then speak in response to a question
Read, listen and then write in response to a question
Some common Facts about TOEFL
Q. How much does it cost?
It costs $180 to register for the TOEFL in India (or, about 12,300 Indian Rupees)
If you register late, there is a fee of an extra $40
To reschedule your test date, you'll have to pay another $60
Q. How can I register for TOEFL test?
Online Procedure
Log on to the official website for TOEFL registration www.ets.org/toefl
Select the option "Register Now" under the TOEFL introduction details.
Create User Account first, where you will get the updates related to your registration, changes and scores.
Select your test date and test city (you will see the seat availability status)
Complete the on-line application form.
Pay the test fee by credit card (Master / Visa)
Get instant seat booking and acknowledgement.
The centre are accessible to any information and change related queries but registration is done online only.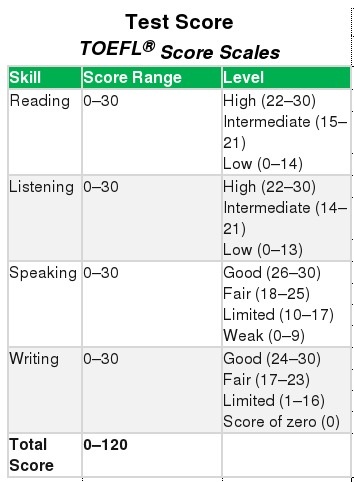 Q. Can I reschedule my TOEFL exam?
If you need to reschedule or cancel your registration, you have up to 4 full days before your test date.
Q. What is the eligibility for TOEFL test?
The TOEFL test (both TOEFL-IBT and TOEFL-PBT) is open to all. Ordinarily a pass in 10+2 level of any recognised Indian Board or University is a suitable qualification to take the TOEFL (Test of English as a Foreign Language) test. However, the test is suitable for candidates studying at high school level or higher.
This table will give you an idea of the different section and tasks you will perform during the 4 hour English Proficiency Test.

Please read the timing instructions for the Reading Section carefully. The instructions will indicate how many passages you will receive and the amount of time you have to respond to questions for those passages. Be sure to pace yourself so that you have time to answer all the questions.
A standard English language (QWERTY) computer keyboard is used for the test. We recommend that you practice typing on a QWERTY keyboard before taking the test.
Details about various sections
The Reading Section (60 minutes)
You will have one hour to read the three reading passages and answer the accompanying questions.
After the full text is printed, questions will be grouped by paragraph, which saves you some time and makes it easier to find the information you need.
You will have 20 minutes per passage, including the questions.
The Listening Section (60-80 minutes)
Next will be listening section.
Like the reading section, the listening section will last about an hour.
Throughout the entire test, you will have the option of taking notes; in the listening section, this will be essential.
Practice listening and writing at the same time, because the lectures are 3-5 minutes long, and you will not be able to remember all the necessary information.
The conversations will be shorter, but note-taking will still be very helpful. In all you will listen to 4 or 6 lectures and 2 or 3 conversations.
The Speaking Section (20 minutes)
It will involve some independent tasks, which require you to express an opinion briefly (you will have up to a minute to speak), and some integrated tasks, in which you will need to use information from reading and listening in your spoken answers.
There are two questions that require you to read, listen and speak, and two that require you only to listen then speak.
In all you will answer 6 questions in the speaking section.
The Writing Section (30 minutes)
This will be an independent task like a persuasive essay, meaning you should express and support an opinion. The integrated task will give you an excerpt from a lecture, an excerpt from a written article, and a question. Your task will be to combine the information from the lecture with that from the written article in order to answer the question.
Conclusion
There is plenty of material available on how to crack various TOEFL sections. We want to highlight something very different here. For all the students who are afraid of this test, remember TOEFL is far simpler than verbal section of most of entrance exams of India like CAT, XAT, GMAT, UG entrance exams etc. It is actually very simple if you see from this perspective
So, TOEFL can be easily cracked with right confidence, guidance and support. The listening and reading are very transparent and scientific sections in terms of marking whereas writing and speaking can be subjective based on examiners. So we see many students especially struggling in these sections in actual exam.